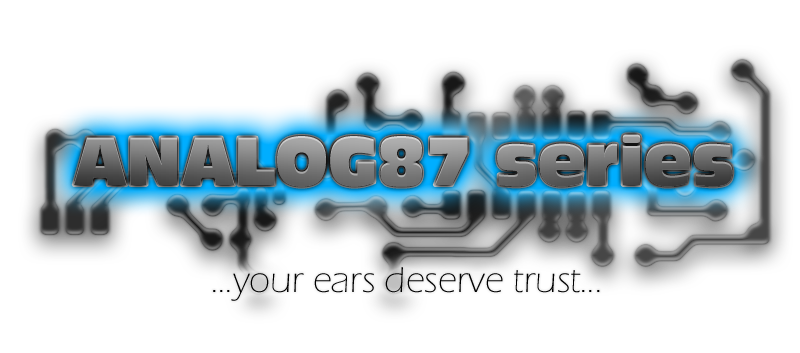 AU / VST2 PLUGINS for Windows and MacOS
Current Version: 1.3.0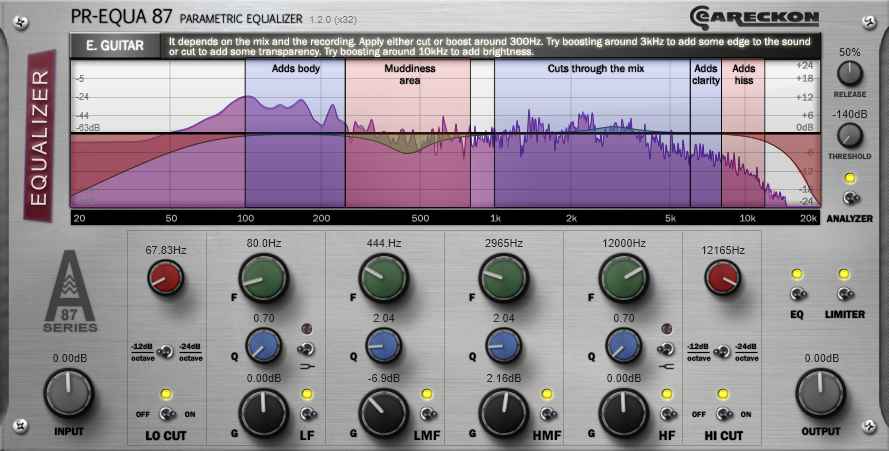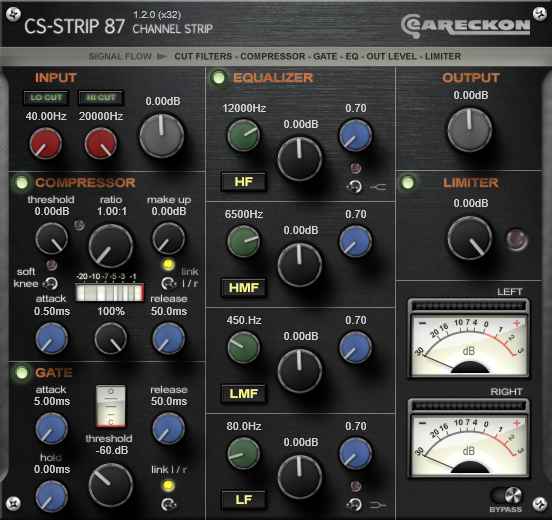 ---
AUDIO DEMO
by Joris Holtackers - Studio Sonopoly

Sonopoly Jam (Dry)
----- LISTEN (SOUNDCLOUD) -----
Sonopoly Jam + CS-STRIP87
----- LISTEN (SOUNDCLOUD) -----
Sonopoly Jam + CS-STRIP87 + EAReverb
----- LISTEN (SOUNDCLOUD) -----
---
ABOUT
The ANALOG87 series features 6 plugins.
These have been designed and fine tuned "by human ears" and except for PR-EQUA87, you will not get a lot of visual feedback from them... just good sound.

They have been thought with this idea in mind : "your ears deserve trust"

Not too long ago, we were listening to our mixes with our eyes closed, tyring to get the most information from our trained ears.
We were not afraid of digital artifacts. No lights were blinking telling us how bad our equalization was and we were talking about how warm, smooth, punchy was the music and not how red, blue, and yellow it could be.
Of course as time progressed, our computers provided visual feedback, making it easier for us to find mistakes that would have previously taken 10 hours of repeated listening to detect.

As musicians, we started to use both our eyes and ears to mix music, discovering how you interact with an effect can be almost as important as how it sounds.
All of this is very subjective, though.

During the development of the ANALOG87 series of plug-ins, sound has been the top priority with the interface designed around the workflow of an old school engineer.

Of course we have applied some contemporary updates making them much easier to use and saving you the inconvenience of climbing behind a console to plug cables into the back of a sidechain compressor.

If you want a taste of the sound produced by the ANALOG87 series, or if you are on a budget, please have look to the FREE87 series which is based on the same engine.
I hope you will enjoy these plugins as we do.
---
REVIEWS AND TESTIMONIALS
"The ANALOG87 plug-ins could hold their own against similar plug-ins at any price, and are simply without equal at this end of the market.[...]Cheap and very, very cheerful. ANALOG87 would still be a bargain at twice the price."
- Future Music Magazine (issue 258)
"A bargain-priced quintet of dynamics and EQ plug-ins that operate beautifully and sound fantastic."
- Computer Music Magazine (issue 180)
The ANALOG87 Series is a comprehensive and very affordable collection of essential studio tools which rival with far more expensive products.
This quintet of mixing tools provides an excellent sound and shows no weakness in terms of flexibility and ease-of-use."
- Beat (August 2013)
"The Analog87 series belongs to the senior representatives of the "audio plugins jungle".
These plugins present themselves as beeing great sounding and flexible workhorses
for the everyday studio routine, but they also allow more specific applications."
- Perry Staltic for BuesnasIdeas.de
"We tried BW-LIMIT87 and figured out it's exactly what we need in our broadcast environment. Latency free clipping of peaks together with transparency."
- P.L. (ProSiebenSat.1 Produktion)
"I played my latest composition without your Channel Strip.
What a difference, no punch, sounded really dead.
I honestly think it's the best VST I have and I've tried lots of similar products."
- Bob Bloomfield (Producer, Composer)
"I have sat behind some very nice mixing consoles in my time,
56 channels of discrete audio with every hardware system you can imagine plugged in...
Lotsa tubes heating up the place.
Philippe has paid homage to the analogue maniacs by the attention to detail in how it sounds...
I mean, hmm, how do I put this, is it a 1,000 dollar plugin?"
- TC Deane (about CS-STRIP87)
"I don't buy a lot of plugins because they are usually too expensive for me...
but yours are too good and addictive! I'm a happy customer."
- AudioFanzine Member
"These plugins are miracles in the world of digital audio processing.
Not because they have fancy meters and/or realistic buttons, but especially because of how they work and what you can achieve with it.
From subtile compression and EQ'ing to very aggressive pumping and eq-manipulation, the plugins from the ANALOG87 range are at home in all these scenarios and everything in between.
There are more developers who already managed this before,
but the plugins of eaReckon excel in their unbelievable smoothness and transparency, usually exclusive to very expensive hardware.
No cryptic saturation dials (that quite often take essential audio-information like transients away), but just outright amazing compression/limiting and EQ algorithms waiting to be discovered by good ears."
- Joris Holtackers - Studio Sonopoly