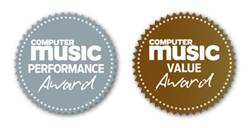 AAX/AU/VST2/VST3 PLUGIN for Windows and MacOS
Current Version: 1.2.0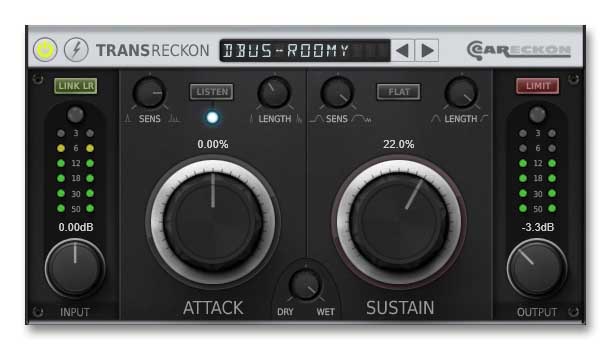 ---
REVIEWS
Computer Music Magazine (issue #210)

"One of the finest transient shapers we've seen/heard, TransReckon works wonders on drums and other transient-heavy sounds." - 9/10 - Value + Performance Awards
[Read the review at Music Radar]
AudioFanzine
"eaReckon proposes a very effective tool that offers plenty of possibilities while being easy to use.
This editor deserves well its reputation. Given the quality of TransReckon, the price is very reasonable... so why do without it?" - 4.5/5
[Read the review at AudioFanzine - French]
BVKER
"After testing TransReckon for a while I can say that everything "feels right".
There aren't any weird artifacts and since eaReckon made sure to include all the common utility controls it can seamlessly be integrated into your workflow."
[Read the review at BVKER]
---
TESTIMONIALS
"TransReckon has been getting a workout thanks to its innovative listen and length functions - the first in this very competetive field, allowing us to shape and even approximate cool gating effects. We use Transient Designers a lot and we have a lot of them. Transreckon is up there with the best, offering us a powerful algorithm with comprehensive control for both our drums and acoustic instruments. Taking the bite and focus out of a harsh clap, or increasing the Boom in a fat 808 sub is what we mainly use these things for and TransReckon does it all with unmistakeable Euro-style."
Baby Brown & Steve Walker - Eurotrash Collective
---
ABOUT
TransReckon is a transient processor that will help you to add punch to your drum lines or put some instruments forward (or backward) in an extremely efficient way and with unexpected ease.

TransReckon provides 'Length' and 'Sensivity' controls, a 'Listen' mode, a 'Flat Sustain' option and an integrated brickwall limiter.
These options help to go further with the transient shaping process.
They can be used to reduce artefacts when processing specific instruments (guitars, ...) but they also offer new creative possibilities (gate and "pre-delay" effects on a natural reverb).

While it is possible to process transients with classic dynamics effects, these rely on a defined threshold which is set manually depending on the incoming signal.
If the input level is modified later or if your drummer does not hit his drums at a constant velocity (which is usually a good idea, musically speaking), the transients processing can be more complex to achieve.
A transient processor like TransReckon does not depend on the level of the incoming signal.

In short...

- Add punch to your drums and percussive instruments.
- Add life to your mixes.
- Isolate the prominent elements of an existing loop.
- Give more presence to an acoustic guitar or tame the peaks produced by an enthusiastic rhythm guitarist.
- Add a gate effect to a natural reverb and/or simulate a pre-delay effect on it.
- Tweak the envelope of an electronic drum sound.
- ... Be creative!