ASIO / VST HOST for WINDOWS
(Current Version : 1.5.0 -> Version History)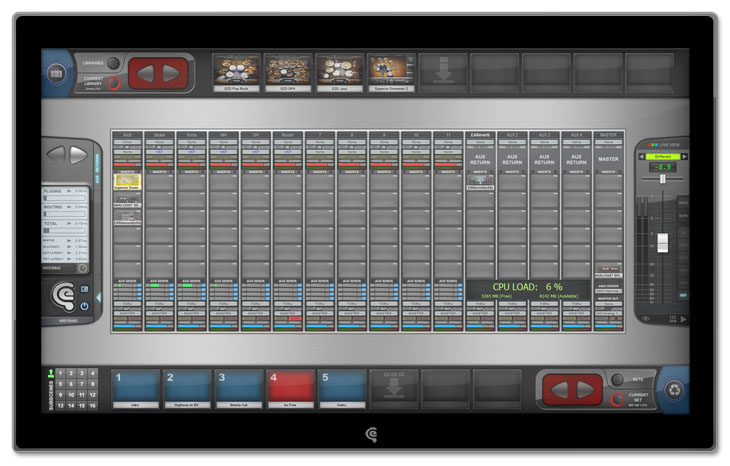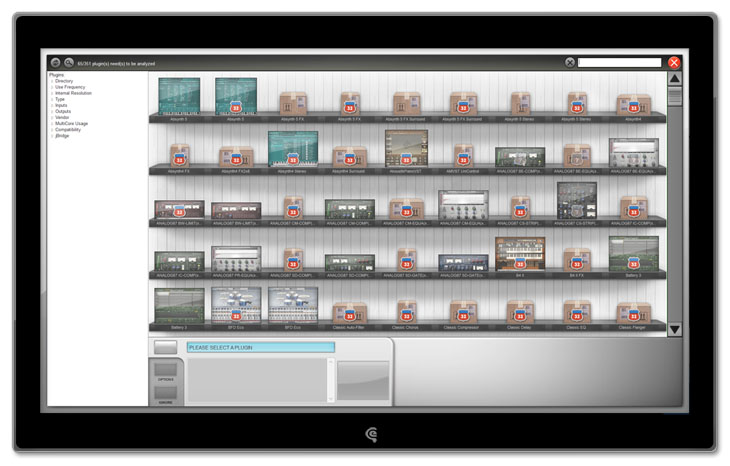 ---
ABOUT
This VST host has been designed to meet the requirements of musicians and sound engineers in live situations.
As a serious musician, you surely need a complete DAW to record your music, but when you are in front of your audience, it may be easier to use something dedicated to live situations.
And during live situations, the access to your instruments and effects must be fast and intuitive. The adjustment of these must be done efficiently, and the necessary software sub layers running on your computer should not be your concern when it comes to play or produce music.
BloXpander has been designed with in mind, the obsession to provide an easy to use "machine" powered by advanced features. It was important that both the beginner and the professional easily find the features they need, without being visually swamped with what is unnecessary during a session.
Nowadays, the musical possibilities offered by our computers are far more than what I could have expected 15 years ago. However, some of us do not have the desire to disperse their time in a lot of "computer geeks" activities, because they are just passionate about music.
In the past, the access to audio hardware wasn't that easy because of its price. Today, we have an easier access to an arsenal of powerful tools but we usually don't use every available thing on a daily basis.
I consider a piece of software in the same manner as a hardware device.
I wouldn't bring 4 full racks of hardware to a small show but even in such a situation, I would like to play my music in a version that is not too "cheap" compared to the original version.
Similarly, a sound engineer doesn't always have the opportunity to hire the device he needs to facilitate his on-site tasks, when the wanted thing remains in the studio.
This is why I always have my laptop with me and I regard this machine as a fully-fledged musical instrument.
Still I wanted a piece of software that combines the power of a computer and the efficiency of a dedicated device.
The interface of BloXpander has been designed to match this basis specification. It is visually attractive and clear, the construction of projects and the access to prepared instruments and effects is very fast. The plugins manipulation is direct (especially when BloXpander is coupled to an external MIDI controller).
In a live situation, switching from a complete "scene" to another is done with a double-click.
Even if BloXpander has been especially thought for live situations, it can also find its place within the studio. There it can be used as an expander or a top notch multi-FX unit.
Whatever your current workstation is, it may be interesting to take advantage of the plethora of available plugins working under Windows ™, installed on a PC dedicated to BloXpander.
BloXpander also has the potential to facilitate the work of music teachers or theatre technicians, providing an immediate and easily transportable access to a remarkable amount of instruments and effects. The versatility of audio tools is not so critical when we can take a full load of them in just a bag.
However, don't take me wrong. I don't try to advocate the supremacy of software across hardware, but more humbly propose a supplementary tool that can certainly find a place aside your current setup.
And since computers are a tool that musicians can no longer ignore, I am pleased to share this software solution that is just an attempt to give some credibility to those who claim "a computer can be nothing else than a genuine musical instrument".
---
FEATURES
ASIO Host for VST plugins (Windows only)
24 channels
4 Auxiliary bus + 1 Master bus
6 inserts per channels (theoretical 174 Instrumetns / FX slots)
Advanced support of external MIDI controllers (lets you control the mixer and plugins)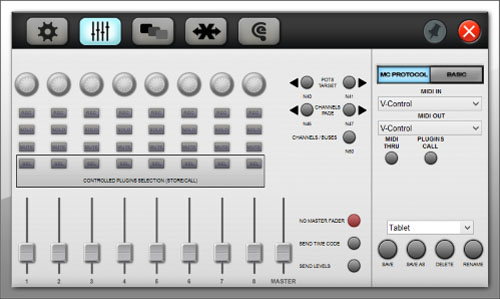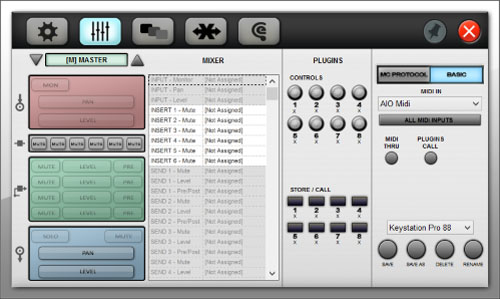 Control up to 8 plugins (8 parameters each) with just 8 potentiometers + 8 buttons.
Displays the controlled targets names on screen
Lightning fast configuration procedure
Mackie Control protocol supported
Advanced routing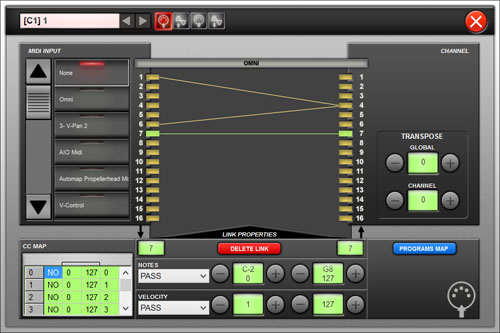 Global management of MIDI and Audio streams (MIDI VST Fx supported)
Advanced user-defined MIDI Inputs filtering and routing (per channel and per user-defined link settings)
Assign the same MIDI input port to several channels (MIDI Split)
Assign the same Audio inputs to several channels (Audio Split)
Assign any available audio and/or MIDI output or the Master bus to any channel
Pre/Post fader selector (aux sends)
Specific routing solutions for "multi out" and "sidechain capable" plugins
Audio inputs monitoring
Outputs Solo and Mute functions
Inserts Bypass function.
Full screen friendly and fast interface
Designed as the panel of a hardware unit
Touchscreen friendly (for critical functionalities)
No main menu and no massive amount of overlapping windows
Auto-created visual representation of your plugins (GUI screenshots)
"Drag 'n Drop" your plugins and their states from insert to insert (copy / move)
Supports multi-screens
Netbook friendly
"Libraries" system
Store and callback a plugin and its state from one double-click on a large zone
Custom management of your favorite plugins and presets.
"Sets" and "scenes"
Store and callback the complete state of BloXpander ("Scene") from one double-click, keyboard, or MIDI messages
Organize your scenes as "sets" (easy and fast access to what you need during a show)
Categorized Plugins library ("The Case")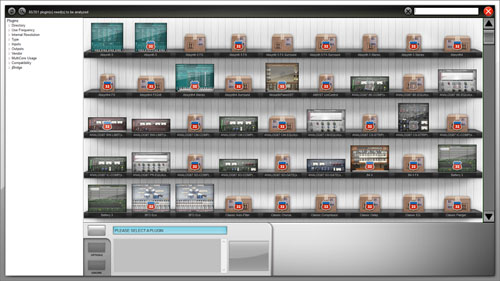 Optimized and secured operations

Analyze your plugins compatibility from a stand-alone tool
(limits the eventuality of the main application malfunctioning)
Fast launching
Time Line

Controls : Play/Stop/Next and Previous measures/...
Loop option
Synchronization of external MIDI devices ("MIDI Clock")
Tap Tempo feature
Time signature
Mini Sysex Librarian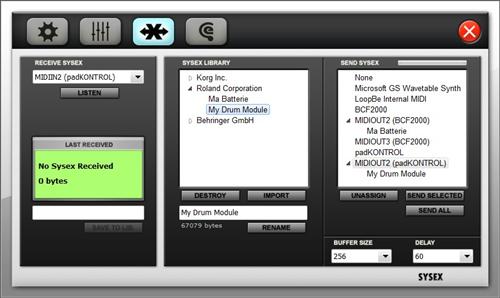 Receive, store, import and send Sysex the easy way
---
SYSTEM REQUIREMENTS
Operating system : Windows XP, Windows Vista or Windows 7
Processor speed : 1.5 GHz (minimum)
RAM : 1 Go (minimum)
(the necessary memory amount depends on the loaded plugins)
Screen Resolution : 1024x600 pixels (minimum)
Plugins format : VST only
BloXpander requires an audio interface with ASIO drivers.
An access to the Internet is required to authorize the software.
---
YOU ARE ...
You are a keyboard player...
You probably use virtual instruments coupled to effects, all loaded into your favorite DAW. BloXpander is not intended to replace your favorite sequencer, but to facilitate the handling of your plugins when speed and control are critical factors. This is the case during rehearsals and live performances, or when you want to play your instrument when inspiration is in the air or just for pleasure...
If your master keyboard has additional controllers (potentiometers, for example) you will fully enjoy BloXpander optimized MIDI control.
You are a vocalist...
No need of a great speech on the need to apply some effects on your voice so it "sits into the mix". If you have experienced a studio quality recording, you are already aware... During rehearsals and public performances, BloXpander provides a way to benefit from your virtual instruments and effects without the need to make you look as a secretary in front of a computer between two songs.
You are a guitar or a bass player...
Enjoy an arsenal of effects in the space of a laptop.
Serenely prepare your virtual rig during rehearsals (or at home) for each tune of each of your sets. Only one action is needed to change your complete rig between two songs.
Control all your effects from a MIDI pedal board and maximize the actions your foot will have to accomplish.
You can connect the audio outputs of your computer directly to the hardware mixer or if you don't want to quit good habits, connect them to a preamp or a guitar/bass amplifier (equipped with line inputs).
You are a drummer...
By using electronic drums, you have the opportunity to play a hyper realistic software drums sampler and switch from a jazz set to a metal set in no time. You can then assign effects such as compression, gate, EQ, etc. to the various elements of your virtual set (especially if you use a plugin with multiple outputs). Only one action is needed to change the set and retrieve your presets.
If you have an external MIDI controller, you can pre-mix your drums or apply a temporary creative effect from your throne.
If you play acoustic drums and don't have a sound engineer at your disposal during live performances, an audio interface with multiple inputs coupled to BloXpander will give you the opportunity to assign all types of effects or simply mix the microphones placed on your drums set. Mostly, BloXpander will preserve all your ready-to-call settings.
You are a band...
If your audio interface and the power of your computer are sufficient, all the musicians of your band can use the same unique computer... Only one of you is then needed to control the sound from a readable interface.
You are a sound engineer...
You are used to make the sound of multiple bands during a same live performance.
In this case, some serious efforts are needed to organize and remember the nice amount of the settings you defined during a long sound check, aren't they?
You probably already know... switching from one band to another and recalling much of these settings from a double click or even refining these settings during the show from a motorized MIDI controller can seriously make your life easier.
You are surely familiar with your VST effects and maybe you would like to use them outside the studio.
BloXPander has been thought for you by providing an optimized control and a lightning fast access to all your VST effects and instruments, without the need to be visually invaded by features you don't need during live situations.
You don't use Windows™...
Your main computer is equipped with OSX or Linux and BloXpander cannot be installed on it. We do not plan to release non-Windows™ versions of BloXpander soon. In the future, if something brings the opportunity to adapt BloXpander to another OS, we will think about it.
However, BloXpander has initially been thought to be installed on a PC dedicated to it, in order to make a musical instrument from a laptop.
If you already have a good laptop equipped with Windows™, additionally to your main computer, it's possible to link the two computers during studio sessions, and take a part of your studio when going outside. Finally, a laptop is not larger than a stack of dedicated machines!
To link a computer with OSX (or Windows™) to another computer equipped with Windows ™, several solutions are available to you, such as MIDI linking and/or the excellent free Plasq Wormhole 2 plugin.
In General...
A good laptop dedicated to BloXpander, with a full-load of VST effects and instruments, can be a kind of very big expander coupled to a massive multi-effects, both integrated in an intuitive mixer that provides routing possibilities which should satisfy the most "twisted" of you!