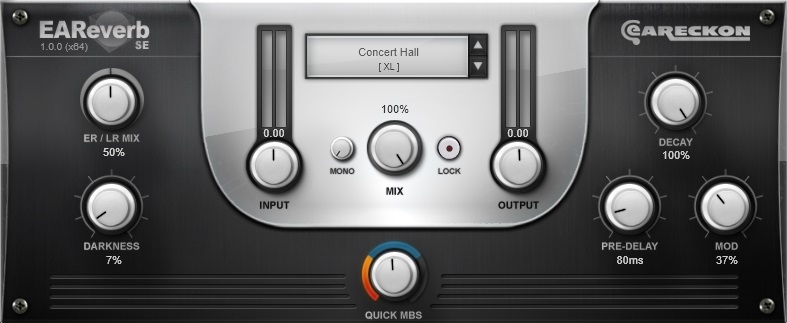 EAReverb SE is a 32/64bit VST plugin for Windows and a 32bit VST/AU plugin for Mac OSX.

EAReverb SE is a True Stereo, 100% algorithmic reverb unit.
It does not use any IR files. Early reflections are built "on-the-fly".
However, switching from a preset to another will immediately put your music or sounds in a place that sounds as expected.

EAReverb SE provides a natural sounding, earthy reverb effect.
It is able to simulate the subtle reflections of a very small room as well as very large spaces.
It is suitable for music and sound design.
EAReverb SE has been designed and "fine tuned by ear" to sound the most possible natural.

What is the difference between EAReverb and EAReverb SE?
EAReverb SE features the same algorithms as EAReverb but provides far less controls and misses the "bounce" capability and the pre-delay host sync option of its big sister.
It is aimed at musicians who just want to apply a great sounding reverb the easy way, without having to deal with a lot of parameters.
That said, even advanced users (and EAReverb users who can get a free license of the SE version) may enjoy the ease-of-use of this "Starter Edition" in some situations.
EAReverb SE is also a very affordable way to start with an intuitive high-quality reverb.
And should you wonder whether you need the strengths and flexibility of EAReverb (original) or not, the fair upgrade path should make your initial choice as easy as the "Quick MBS" knob.
System requirements
PC:
Operating system : Windows XP, Windows Vista, Windows 7 or Windows 8 (32 or 64 bits)
Processor : Pentium IV or Athlon (minimum)
RAM : 1 Gb (minimum)
Mac:
Operating system : Mac OS X (10.6-10.12)
Processor : Intel Core 2 Duo (minimum)
RAM : 1 Gb (minimum)
EAReverb SE is a 32/64bit VST plugin for Windows and a 32/64bit VST/Audio Unit plugin for Mac.
A compatible host is required to load them.
An access to the Internet is required to authorize the software (if EAReverb is installed on a computer that does not provide an access to internet, you can use another computer to get authorization codes).