THE WHOLE ANALOG87 SERIES IS ALSO AVAILABLE AS A BUNDLE (ANALOG87 BUNDLE)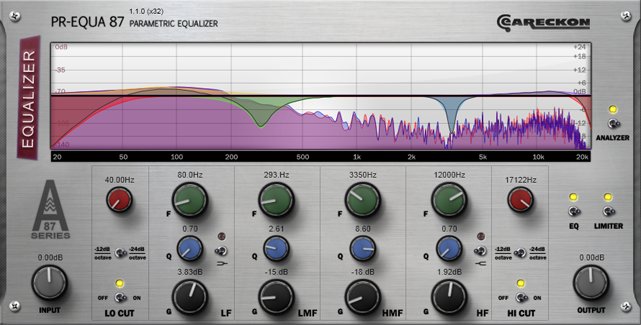 PR-EQUA 87 is a full-featured 4-band parametric equalizer. It is the only plugin of the series to overcome the idea of a limited visual feedback.
Actually, during the long testing phase in real situations, it has been decided to integrate a useful but optional frequency analyzer.
Though, if this tool is too distractive to set the effect "by ear", you can disable it from a click on the large graph!
PR-EQUA 87 is made of 4 EQ sections: LF, LMF, HMF, HF. Each section features the classic gain, frequency and Q parameters. LF and HF respectively feature a high-pass filter and a low-pass filter. Both of these have a "shelf" option.
PR-EQUA 87 also features an integrated brickwall limiter (0dB) based on BW-LIMIT 87. You can be sure its output will not exceed 0dB with this limiter enabled!
PLEASE DOWNLOAD AND TRY THE DEMO VERSION IN ORDER TO BE SURE THIS PLUGIN WORKS ON YOUR SYSTEM.
Specifications
Gain: -24 -> +24 dB
Q: 0.4 -> 10
LF Freq: 20 -> 450 Hz
LMF Freq: 120 -> 1200 Hz
HMF Freq: 1200 -> 8200 Hz
HF Freq: 1500 -> 16000 Hz
Input Level: -24 -> +24 dB
Output Level: -24 -> +24 dB
System requirements
PC:
Operating system: Windows XP, Windows Vista or Windows 7 (32 or 64 bits)
Processor: Pentium IV or Athlon (minimum)
RAM: 1Gb (recommended)
Mac:
Operating system: Mac OSX (10.6-10.12)
Processor: Intel Core 2 Duo (recommended)
RAM: 1Gb (recommended)
This product is a 32/64 bit VST/AU plugin for Mac OSX and a 32/64 bit VST plugin for Windows.
A compatible VST host is required to load it.